I  come from an extremely honest (and opinionated) family who grades my mother on her meals. Anything below an "A" and the recipe goes out because Mom doesn't want to spend her time fixing mediocre food. Growing up this way I thought it was normal to provide such honest reviews, so you can imagine the wake up call I got when I finally learned that not everyone was as willing to receive that kind of feedback.
Separating the general critique from a feeling of being attacked can be difficult, especially if you don't have a relationship with the critic. To avoid hurt feelings, people can fall  into the habit of sugar coating their feedback, hoping that the person on the receiving end will somehow pick up on the changes that need to be made without being offended. This has led to a culture of Fake Talk – both in the workplace and at home.
In sharing feedback there is a fine line, but when done right, sharing the truth in kindness can be the beginning of positive change for your company and your relationships – both business and personal. Overcoming Fake Talk could be the missing piece you've been looking for to help in this area, which is why I'm excited to introduce you to our featured author of the week…
Meet John Stoker
John is a communications expert with more than 20 years of experience in speaking to audiences, assisting them in improving their communication skills, and showing them how to achieve astonishing results through their ability to interact with others. John and his wife have five children, so on a home level they are able to practice their communication skills every day!
In 2013, John published Overcoming Fake Talk. In it, he focuses on developing the eight principles that influence every conversation: awareness, knowledge, reflection, perception, preparation, expressiveness, discovery and connection. This September, our team is excited to be a part of a second Buzz week for John and his book, and we would love for you to get involved! Continue reading to learn how to sign up and where you can find John online.
Connect with John Online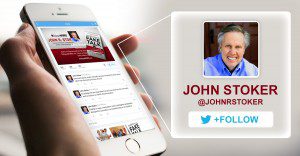 Find John's company, DialogueWORKS, on Facebook, follow John on Twitter, connect with him on LinkedIn, and check out his author page on Goodreads. You should also spend some time clicking around his website, and don't forget to stop by the new book site to learn more about Overcoming Fake Talk! If you're interested in ordering a copy, it's available on Amazon and Barnes & Noble.
Get Involved in the Buzz!
Think you'd like to be involved in the re-launch of Overcoming Fake Talk? We would love to have you join our team and help us communicate effectively through social media channels, blog book reviews, interviews, and more! Click HERE to sign up. We will also be hosting a free webinar with John and Becky on September 11, 2014, so go ahead and save that date on your calendar, then check our sidebar for registration information as we get closer to the date.
You Tell Me! Have you had an experience with "fake talk" that you would care to share?
Carrie Koens joined the Weaving Influence team in May 2012 and has held a number of roles, including three years as the Book Launch Director (a title she stepped away from in June 2016 in order to focus on the needs of her growing family), and she currently serves the team as a Writer and Consultant. An INTJ with a penchant for culture, book stores, Parisian cafés, Indian curry, British mystery shows, and her passport, you can find her on Twitter @CGKoens.