On July 12, 2013 I wrote our very first Featured on Friday. And who did we choose to highlight? None other than Bill Treasurer, author of Leaders Open Doors.
In 2013, we had the opportunity in help Bill launch Leaders Open Doors – and many of you joined us. Now, in 2014, we all get to be a part of Bill's team again!
Bill's book – originally inspired by his 5-year-old son, Ian – has been picked up and traditionally published by ATD Press. So what's changed? Bill's royalties just got bigger. And what hasn't changed? He's still donating 100% of those royalties to organizations that open doors for people with special needs, like his daughter Bina.
What's New This Time Around?
In addition to coming out as a hardcover book this time, Bill has also included a new epilogue in this edition.  Renowned leadership authors like Ken Blanchard, Jim Kouzes, and Chip Bell have shared stories about leaders who opened doors for them during their careers, and made a lasting impression on their lives. The epilogue alone makes buying a new copy worth it.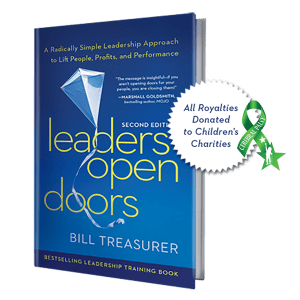 I already mentioned that he's getting more royalties this time around with a traditional publisher, but here's the full scoop on his goal for the coming year. With the proceeds from his first edition of Leaders Open Doors, Bill was able to donate more than $7000 to charity. Over the course of the next year, his sights are set much higher: $50,000 – raised and donated through the sale of Leaders Open Doors from ATD Press.
Bill has timed the release of his book on October 1st with World Cerebral Palsy Day – a cause that is near and dear to his heart. The goal is not only to use it as a jumping off point for his goal of raising $50,000 for charity, but to also bring new awareness to those living with and affected by Cerebral Palsy.
Find Bill Online
Find him on Facebook, Twitter, LinkedIn, and YouTube, and don't forget to visit his new website for Leaders Open Doors.
Want to Learn More?
Bill is joining with ATD as part of the launch for a free webinar about his book and leadership ideas. In order to join you'll need to sign up for a free account with ATD, and then sign up for the webinar – and if you already have an account, you're half-way there. The topic of the event will be Leaders Open Doors: Radically Simple Ideas For Effective Leadership, and it begins at 2 pm ET on Wednesday, October 1st. Sign up to join Bill and the ATD team.
No time to attend the event? Hang out here a little longer and watch this new video from Bill, created in celebration of his new launch. Then join us in helping Bill open doors for others by telling everyone you know about Leaders Open Doors and the cause it's supporting. Send this Tweet Now!
Carrie Koens joined the Weaving Influence team in May 2012 and has held a number of roles, including three years as the Book Launch Director (a title she stepped away from in June 2016 in order to focus on the needs of her growing family), and she currently serves the team as a Writer and Consultant. An INTJ with a penchant for culture, book stores, Parisian cafés, Indian curry, British mystery shows, and her passport, you can find her on Twitter @CGKoens.