Stories are powerful tools. We relate to them. We connect with the characters, their struggles, and sometimes their victories. In them, we find role models to follow, principles to emulate, and pitfalls to avoid. In memoirs, the most personal form of story, we meet real people who have poured their real struggles and mistakes onto paper so that we might learn from their experience.
The best of memoirs lead us by example. They offer real-life lessons of grit, determination, and resolve. They share humble promises of joy and offer honest encouragement to keep on living, keep trying, one day at a time. They give us hope that we, too, can fight through our harsh realities to one day reach our dreams.
Today's featured author has penned such a book. She writes in the first chapter, "Before there can be dreams of lilacs, there is almost always a harsh reality to struggle through." And her early realities were harsh indeed! Her story travels the path from abandonment and poverty, through hard work and determination, to a distinguished success as the highest ranking executive of a Fortune 100 company and the top of her field in human resources.
Meet the Author — Bonnie Hathcock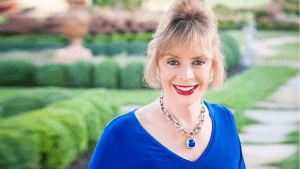 Bonnie C. Hathcock has over 35 years of experience in corporate America. For most of those years, she held C-suite positions at the top of Fortune 100 and 200 corporations. Bonnie began her career at Xerox Corporation, where she spent a decade learning world-class marketing concepts.
Her business and marketing acumen eventually caught the attention of a high-ranking executive from Siemens A.G., who promoted Bonnie to the position of vice president of human resources for one of the largest Siemens companies in the United States. Bonnie would eventually be promoted to vice president of Human Resources for US Airways, and senior vice president of Human Resources for Humana Inc.
Bonnie's work ethic and drive for excellence awarded her the distinction as one of the Top 25 Most Influential Women in Human Resources in 2005. In 2007, Bonnie was named Human Resources Executive of the Year, a national award presented by HR Executive Magazine. In 2010, Bonnie was inducted as a fellow into the National Academy of Human Resources.
Bonnie has an MBA and has completed post-graduate studies at the Stanford University School of Business. She resides in Tennessee with her husband, Lee, and her Cavalier King Charles Spaniel, Cubby.
Want to connect with Bonnie? Find her on Facebook, Twitter, LinkedIn, or contact her via email.
Discover the Book — Lilac Dreams
Bonnie Hathcock never wanted anyone to know how humble her roots really were. As she sat in the mahogany boardroom of one of the largest corporations in the country, she worried about being worthy enough to be there. She had made it to the top as one of the highest ranking officers of a Fortune 100 corporation. She kept her background out of view, because she feared being looked down on.
That was until the day she chose joy. Bonnie realized she was suspending the presence of joy in her life. She thought joy was something off in the future, when she wasn't working and when she didn't have so much pressure. Through a series of encounters with special people in her life, she realized she could be happy most of the time. She boldly embraced the pathway to unlocking her inner joy. It took work and practice. She began by confronting her shame: shame about her humble beginnings, her mistakes, and her limitations.
In confronting her shame, she made a discovery that changed her life's perspective. Her past made her who she is and actually created the success she attained. In her struggles, she learned to overcome. In her disappointments, she learned how to hope. In the mistakes, she discovered how to be better.
Bonnie wrote Lilac Dreams to share the story of her youth…with its mistakes, hardships, and struggles. Despite her circumstances, Bonnie still had her dreams. Dreams of making something of her life and of going beyond her own limitations. Lilac Dreams is a book that will move you to look beyond your current circumstances, help you to push past your limitations, and affirm your worth in this world. Bonnie believes if she can do it, you can do it.
Intrigued? Visit the website to learn more, add it on Goodreads, or buy a copy on Amazon or Barnes & Noble.
What People Are Saying
"The book offers readers an intimate look into Bonnie's life and her pathway to success but her story is more than a retrospection into the past. 'Lilac Dreams' also inspires its readers to look and move forward in their own lives and to work tirelessly to achieve their dreams."
— Melissa Russell, 5-star Amazon review
"Moving. So very moving. I read this book cover to cover in one sitting because I could not put it down. It felt like I was THERE with Bonnie in Shippensburg . . ."
— SGMaurer, 5-star Amazon review
"A powerful story for women especially, to see how the past affects us, and molds us, but does not necessarily define us for the future. I want y granddaughters to read books like this as they grow up."
— Doc Myron, 4-star Amazon review
"I was thrilled beyond words when I received 'Lilac Dreams.' I read it immediately, from cover to cover, savoring every word. I am re-reading it again today. This book was written straight from the heart and I am so very proud of Bonnie for all of her superior accomplishments in life."
— CLKANN, 5-star Amazon review
Learn More
Stop by Bonnie's website to learn more about her book, find tweets and graphics to share with your friends and coworkers, and start reading her blog for practical insights on being a leader and finding joy.