At this point in the new year, we are well into our season of book launches. We've covered Refire! Don't Retire, The Hidden Leader, Sprinkles, and we're coming to the end of the launch week for Flying without a Helicopter. Four launches in the last four weeks… as you might imagine, our team is ready for the weekend.
We'll get a week to gear up again before the next set of launch weeks hit: Talent Mindset, Dare to Serve, and The Politics of Promotion – and that's just March. In April we'll be hitting the ground running with Chess Not Checkers (the new book from Mark Miller), and Wind In Your Sails (by first time author – but long time TBB supporter – David Greer).
I've heard from some of our regular Team Buzz Builders that they might not be able to get  books read in time, or they might be late with a review on their blog or on Amazon. What I've told them – and what I would share with you – is that authors love reviews and promotion, whether it's launch week or not. Write the post, leave the review, and send me the link so we can share it — no matter what week it is!
Speaking of weeks though, it's time to introduce you to the next author up on our book launch calendar…
Meet Stacy Feiner
Dr. Feiner is an executive coach for the middle market. She brings psychological strategies to business owners, helping them improve their performance, advance their organizations, and achieve the success they want and deserve.
Stacy addresses complex dynamics within owner-operated companies, family businesses, management teams and boards. Her methodology solves people problems, clearing the way for driving strategy, growing profitability, and eventually transitioning to the next generation.
She earned her doctorate in clinical psychology from the Illinois School for Professional Psychology, MS from Northeastern University, and BA from Hobart & William Smith Colleges. Stacy is a licensed psychologist, executive coach, national speaker, and author of the new book, Talent Mindset.
Connect with Stacy Online:
Visit the Talent Mindset book site, follow her on Twitter, and connect on Facebook and LinkedIn.
Let's Talk About Talent Mindset
"If your organization lacks a viable talent pipeline, it's simply not equipped to compete in today's dynamic economy. Feiner gives you an entire platform that will forever change the way you assess your talent inventory, determine what's missing, and fill those spaces with A performers. Excellent!"

— Marshall Goldsmith, bestselling author of What Got You Here Won't Get You There, and Mojo
Talent Mindset is scheduled for launch on March 9 and is currently available on Amazon (through Stacy's online storefront) and for immediate Kindle download.
If you've already received a copy to review, please feel free to leave your review any time between now and the launch week (remember what I said earlier!).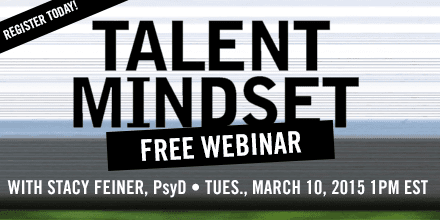 On Tuesday, March 10th at 1 pm (ET), Stacy will be joining Becky Robinson for a FREE 1 hour webinar (registration link | learn more).
If you'd like to learn more about Talent Mindset (or find resources to share with your online communities), I invite you to visit the book's website where you can download a sample chapter, grab promotional graphics to share online, and see what others are saying about Stacy's book.
Visit the website | Paperback or Kindle | Register for the FREE webinar
You Tell Me: If you would be interested in writing a review of Talent Mindset in exchange for a book – email me!
Carrie Koens joined the Weaving Influence team in May 2012 and has held a number of roles, including three years as the Book Launch Director (a title she stepped away from in June 2016 in order to focus on the needs of her growing family), and she currently serves the team as a Writer and Consultant. An INTJ with a penchant for culture, book stores, Parisian cafés, Indian curry, British mystery shows, and her passport, you can find her on Twitter @CGKoens.