Welcome to 2017! It's a New Year, and quite possibly a new you. With each ringing in of the New Year, we all hope that this will be the year things will change. We will finally get the dream job, lose the extra weight, make more time for our families- we will finally find true happiness.
Think about it, isn't that what we all seek? Our basic human nature urges us to find a sustaining happiness, a purpose to serve in this flash of existence we call life. We all want to know that our lives served a purpose and made a lasting impact on the world.
In his new book released on January 2nd, our featured author sought to answer the question of happiness by gaining inspiration during a year-long sabbatical, walking the Camino de Santiago in Spain and living in the Andes of Peru.
Meet Dr. John Izzo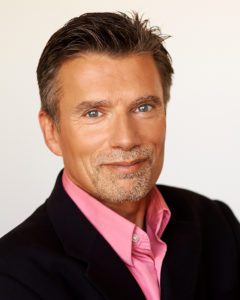 Dr. John Izzo has been a pioneer on creating successful businesses and emerging work trends for over twenty-five years. Izzo was a pioneer on employee engagement and social responsibility with his book Awakening Corporate Soul (1994), a trail blazer on shifting generational values when he wrote Values Shift-The New Work Ethic (2000), showed how individuals shape the future with Stepping Up (2014), blazed a new trail showing business why a rising class of people worldwide will shape the economy of the future with The Purpose Revolution, and is now inspiring individuals to choose to be content right now in his latest book, The Five Thieves of Happiness (2017).
He has spoken to over one million people, advised over 500 companies, authored six bestselling books and helped some of the world's most admired companies. Known for his compelling combination of leading edge research, riveting storytelling, practical ideas to make a difference starting now and a keen sense of where the future is going your organization will leave inspired and ready to act. His clients have included IBM, Qantas, the Mayo Clinic, Verizon, RBC, TELUS, Westjet, DuPont, Humana, Microsoft, and McDonald's.
Discover The Five Thieves of Happiness
In a world on the brink of returning either to the dark ages, or entering the next great renaissance, John's book comes along to help us remember that happiness is available to us all, despite our circumstances, if we become present to the things that are keeping us from it, and choose it for ourselves.
— KoAnn Vikoren Skrzyniarz, Founder/CEO Sustainable Brands

Happiness is a choice, but it requires effort and wisdom to pursue. In this thought-provoking book, Izzo helps identify the biggest stumbling blocks so that you can find a clearer path to sustained happiness and meaning in your life.
— Shawn Achor, Happiness Researcher and New York Times Bestselling Author of 'Before Happiness'

Most of us are waiting for happiness to be given to us from the 'outside'. John shows us how to find in on the 'inside.'
— Marshall Goldsmith, Bestselling Author of 'What Got You Here, Won't Get You There'

'Five Thieves' is a perfect complement to 'Five Secrets.' Dr. Izzo gives us not only a pencil with which to sketch the good, but now the eraser to rid the bad."
— Dr. Geoff Smart, Chairman & Founder of ghSMART and Coauthor of 'Who'
From Amazon: Happiness is our natural state, for each of us and for humanity as a whole, argues John Izzo. But that happiness is being stolen by insidious mental patterns that he depicts as thieves: the thief of control, the thief of conceit, the thief of coveting, the thief of consumption, and the thief of comfort. He discovered these thieves as he sought the true source of happiness during a year-long sabbatical, walking the Camino de Santiago in Spain and living in the Andes of Peru. This thoughtful and inspiring book describes the disguises these thieves wear, the tools they use to break into our hearts, and how to lock them out once and for all. Izzo shows how these same thieves of personal happiness are destroying society as well. This book will help us all discover, develop, and defend the happiness that is our true nature while creating a world we all want to live in.
Take The Five Thieves of Happiness Quiz!
If you haven't seen Dr. Izzo's Five Thieves quiz from one of our other posts, head over to take it! Dr. Izzo's free, twenty question quiz will help you identify which thief is stealing your happiness. Once your thief has been identified, you will also be given guidance on how to "banish" your thief and helpful mantras to implement in your daily life.
Learn more about The Five Thieves of Happiness
The the best place to go to learn more about this inspiring book is on Dr. Izzo's website. There you can find a free sample chapter, more information about the book's origins, and beautiful share graphics to spread the word about his book.
Buy The Five Thieves of Happiness on Amazon or add to your Goodreads shelf.
Watch The Five Thieves of Happiness webinar.
You can follow Dr. John Izzo on Facebook, Twitter @DrJohnIzzo, LinkedIn, or on Instagram @drjohnizzo.
How can you find joy or meaning right now?
Kristin is lives near Houston, Texas, and dedicates her time as a single mom to her daughter, Grace. She enjoys downtime with her family, good Texas BBQ, and has a passion for international missionary work.