Last month, several Weaving Influence "gatherings" took place in West Virginia, North Carolina, Georgia, and Florida while Becky and her family were on their southern road trip. Since I live "just across the mountain" in Tennessee, I joined the North Carolina gang and was able to meet my co-worker and fellow Weaving Influence Director, Christy Kirk.
We often laugh that we could not be more different – whether it's physically (her height to my lack of it), politically (we don't go there!), or personality (she's the extrovert, I'm the introvert). However, during our time together at Weaving Influence we've found a good rhythm and have developed a great working relationship – often because of our differences, not despite them.
Which brings me to the book you see us holding in the photo, and the author-of-focus today for Featured on Friday…
Meet Jennifer Kahnweiler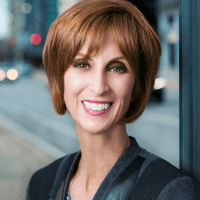 Jennifer B. Kahnweiler, Ph.D., is a professional speaker and author who helps introverts lead with quiet confidence. Her bestselling books, The Introverted Leader: Building on Your Quiet Strength and Quiet Influence: The Introvert's Guide to Making a Difference have sold over 60,000 copies and been translated into 14 languages.
Jennifer has spoken at hundreds of organizations including GE, AT&T, NASA, Freddie Mac, Boeing, Turner Broadcasting, the CDC and the U.S. Embassy in Vietnam. [NOTE: As an introvert, I'm getting worn out just reading that list!]
She is a fourteen-year faculty member of the American Management Association and was the "Madrina" (Godmother) speaker at the Universidad Americana's Commencement in Paraguay. Jennifer has also been featured in Forbes, Bloomberg Business Week and the Wall Street Journal and was featured in a cover story of Time Magazine.
She is a Certified Speaking Professional (CSP), granted to only 8% of the National Speaker's Association and heads up the Global Task Force of the Berrett-Koehler Author's Co-op. Jennifer attended her first National Speakers Association convention in San Diego seven years ago and has been hooked on NSA ever since.
Connect with Jennifer Online
Find Jennifer on: Facebook, Twitter, LinkedIn, Google+, and YouTube. Learn more about Jennifer's work by visiting her website.
The Genius of Opposites is Launching August 17-21!
Coming up in a month, we're participating in the official launch of Jennifer's new book (the one that Christy and I were co-holding on our recent meeting), The Genius of Opposites: How Introverts and Extroverts Achieve Extraordinary Results Together (now available to PRE-ORDER on Amazon).
Do you often get frustrated with the introverts or extroverts in your world? It's true—opposites attract, but their success depends on how they interact. Without careful maintenance and balance they quickly go off the rails, but with Jennifer's help, you can learn how to turn frustration into an incredible collaboration that yields long lasting results.
On August 4 at 12 pm (ET)/9 am (PT), make plans to join Jennifer and Becky for a FREE webinar on the ideas found in The Genius of Opposites. Register today, and invite a friend – or better still, invite your OPPOSITE!
So… who's your opposite? Is it a co-worker (as in my case), or is it a spouse (Jennifer, an extrovert, is married to an introvert), a child, or even your boss? If you want to find a way to relate better to them (or get them to relate better to you), I recommend joining the FREE webinar, and then pre-ordering The Genius of Opposites so you can be ready to promote this great resource during the launch next month!
Carrie Koens joined the Weaving Influence team in May 2012 and has held a number of roles, including three years as the Book Launch Director (a title she stepped away from in June 2016 in order to focus on the needs of her growing family), and she currently serves the team as a Writer and Consultant. An INTJ with a penchant for culture, book stores, Parisian cafés, Indian curry, British mystery shows, and her passport, you can find her on Twitter @CGKoens.