This has been a week of in-person gatherings for several members of our virtual team. While more and more of the Weaving Influence crew are now based in the Northern Ohio/Southern Michigan region, there are still a number of us who are scattered across the United States (with one working regularly from China, and another based out of Columbia, South America).
Pulling the team together in person is one way to keep things authentic, but so are secret Facebook groups where we share jokes, and Google hangouts where we have the opportunity to see facial expressions and check in on more than just work. Growing and supporting a virtual team isn't always easy, but it's always worth the effort, as this week has confirmed.
We've had a few weeks of "down time" (it's never truly slow around here!) since our last book launch, but we're getting back into gear as we get ready to promote The Disciplined Leader next week, and then the new book from today's author, Wired for Authenticity.
Meet Henna Inam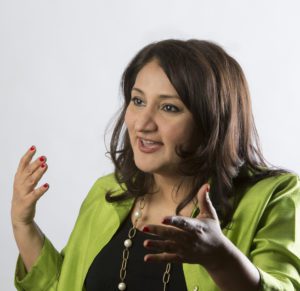 Henna Inam is a sought after speaker, successful author, and CEO of Transformational Leadership Inc. Her unique workshops, tools, and online community help managers create innovative, engaged teams that drive measurable results.
Henna and her global partner team work with Fortune 500 companies to deliver executive coaching, leadership development, and team workshops. Clients include Coca-Cola, Google, Johnson & Johnson, Novartis, CNN, and Bank of America. Prior to starting her company, Henna worked for 20 years at Procter & Gamble and Novartis. She has lived or worked across North America, Europe, Asia, and Africa.
Join thousands of subscribers and get actionable leadership advice from the Transformational Leadership Blog.
Connect with Henna Online
Find Henna on: Facebook, Twitter, LinkedIn, and Pinterest. Learn more about Transformational Leadership by visiting her website.
Support the Launch of Wired for Authenticity – June 22-26!
Coming up in a little over a week, we're participating in the official launch of Henna's first book, Wired for Authenticity: Seven Practices to Inspire, Adapt, & Lead (now available on Amazon). Get involved by telling your online communities about it using the resources found HERE.
Think of the biggest leadership challenge you're facing right now. What if you could be coached on a powerful tool that would help you resolve this challenge? On June 16 at 12 pm (ET)/9 am (PT), you'll want to block off your calendar and join Henna and Becky for a webinar on the ideas found in Wired for Authenticity, because that's what Henna wants to share with you! Register today, and invite a friend!
Don't forget to check out book's NEW website, and start spreading the word as we get ready for the launch. Are you a leader who wants authenticity and adaptability? Start by reading Wired for Authenticity and then join us for an exciting launch later this month!
Carrie Koens joined the Weaving Influence team in May 2012 and has held a number of roles, including three years as the Book Launch Director (a title she stepped away from in June 2016 in order to focus on the needs of her growing family), and she currently serves the team as a Writer and Consultant. An INTJ with a penchant for culture, book stores, Parisian cafés, Indian curry, British mystery shows, and her passport, you can find her on Twitter @CGKoens.