We are moving toward a world where younger generations will bring gaming experience to work, and it will prove to be a big competitive advantage for them. A world where clarity will be rewarded, but certainty will be punished. A world where diversity and innovation will thrive. A world of disruption.
In simpler times, action-oriented leadership was perhaps enough to keep things running smoothly. But the next few decades are shaping up to be extremely messy, complex, and threatening. Skill won't be enough for you to thrive in that future world: leaders will need new, broader literacies that combine practices of foresight and insight, along with action.
Are you ready for that? Is your organization? Your leadership?
Discover the New Leadership Literacies
Over the next decade, today's connected world will be explosively more connected. Anything that can be distributed will be distributed: workforces, organizations, supply webs, and more. The tired practices of centralized organizations will become brittle in a future where authority is radically decentralized. Rigid hierarchies will give way to liquid structures. Most leaders—and most organizations—aren't ready for this future. Are you?
It's too late to catch up, but it's a great time to leapfrog. Noted futurist Bob Johansen goes beyond skills and competencies to propose five new leadership literacies—combinations of disciplines, practices, and worldviews—that will be needed to thrive in a VUCA world of increasing volatility, uncertainty, complexity, and ambiguity. This book shows how to:
forecast likely futures so you can "look back" and make sure you're prepared now for the changes to come,
use low-risk gaming spaces to work through your concerns about the future and hone your leadership skills,
lead shape-shifting organizations where you can't just tell people what to do,
be a dynamic presence even when you're not there in person, and
keep your personal energy high and transmit that energy throughout your organization.
This visionary book provides a vivid description of the ideal talent profile for future leaders. It is written for current, rising star, and aspiring leaders; talent scouts searching for leaders; and executive coaches seeking a fresh view of how leaders will need to prepare. To get ready for this future, we will all need new leadership literacies.
Meet Bob Johansen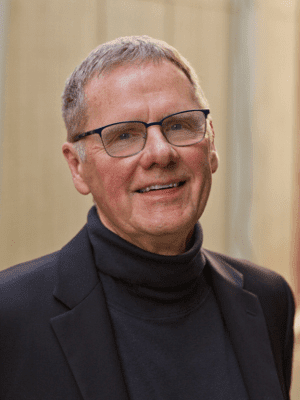 Bob Johansen has been helping organizations around the world prepare for and shape the future for nearly forty years. As a distinguished fellow at IFTF, he draws on his training in the social sciences and his extensive experience at the edges of multiple disciplines as he interacts with top leaders of business, government, and nonprofit organizations to encourage thoughtful consideration of the long-term future. He was IFTF's president from 1996 to 2004, and served on its board until 2010; before that, he created and led the Technology Horizons Program. Today, he invests his time with IFTF sponsors and particularly enjoys leading small workshops with creative teams and rising-star leaders, where he uses foresight from IFTF's ten-year forecast to kindle insight and action.
Bob is the author and co-author of eight books, and a frequent keynote speaker for large groups. He has done workshops based on his books at a wide range of corporations, including Kellogg's, Disney, Intel, Walmart, Syngenta, Johnson & Johnson, UPS, and McDonald's. Major universities, nonprofits, and churches also use his books. In 2016, Bob was named the H. Smith Richardson Jr. Visiting Fellow at the Center for Creative Leadership.
Bob began working with IFTF in 1973, and holds a B.S. from the University of Illinois, an M.Div. from Crozer Theological Seminary (where Martin Luther King, Jr., attended divinity school), and a Ph.D. in Sociology of Religion from Northwestern University.
What People Are Saying
"Johansen provides an approach to leadership that is engaging, humbling, and optimistic. . . . 'The New Leadership Literacies' will require more than one reading and should provoke intense discussions within leadership teams. Whether you are an executive leader, educator, coach, or aspiring leader, you will find the book stimulating and challenging."
— Ircel Harrison, 5-star Amazon review
"In a world that we all agree is changing rapidly and will change even more rapidly, we are spending too little time thinking about the implications. Bob Johansen takes on that role in this book. . . . While it will challenge your ideas frequently, it never leaves you behind. This is a book I'm going to read and reread. It's a book I will gauge the future against and I'm betting more often than not, it will be right."
— R. McConaughy, 5-star Amazon review
"As a strategic planner, I found much of the content thought-provoking; I certainly had pause to think and consider the points Johansen raised in his book. I appreciate the fact that he's written a chapter in which he defines the future leadership literacy, and follows it with another chapter with his forecast for its future. . . . The author's comprehensive bibliography and index are a wonderful touch. This book will be on my bookshelf for a long time!"
— Rebecca Henderson, 5-star Amazon review
"I was pleasantly surprised by how this 160 page book provoked me to action on several fronts. It includes several fresh and timely suggestions that leaders of all level can integrate into their work life–including thinking systematically about the future, recognizing the power of virtual leadership, and sustaining positive energy levels. . . . the author builds a picture of the future that is compelling."
— DP Lamb, 5-star Amazon review
Learn More