My team is supporting Eric Lowitt this week in his launch of The Collaboration Economy: How to Meet Business, Social, and Environmental Needs and Gain Competitive Advantage.
If we want to make a measurable difference through our actions, we must find ways to partner with others to meet the challenges we face.
Here are some favorite quotes from Eric's book.
"Collaboration across the private, public, and social sectors is our best shot at achieving sustainable development."
"Competitive strategies must reflect our interconnected world, as problems are too large for any company's resources can solve alone."
"If left unexecuted, even the greatest competitive strategies are not worth the paper on which they were written."
"The human spirit and the desire for a better life are a powerful one-two combination that will lead us out of our global mess."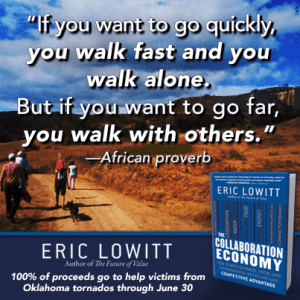 I hope you'll check out more about Eric's book and order a copy today!