Ugh—meetings. They're where productivity goes to die, right? There has to be a better way. According to leading consultants Dick and Emily Axelrod, there is. This week we're celebrating the re-launch of their book Let's Stop Meeting Like This, an invaluable tool for shifting meetings from time-wasters and frustration-builders to thriving, productive, even enjoyable moments.
The Axelrods take a unique approach to improving meetings by focusing, not on how to be a better leader, participant, or facilitator — but on how each of those roles has a part to play in the Meeting Canoe, their blueprint for conducting effective meetings that works in organizations and offices of any size.
Let's Stop Meeting Like This
Complaints about meetings abound. Plenty of people have tried to offer solutions, but authors Dick and Emily Axelrod have created and field-tested a six-step system for meetings where productivity thrives rather than dies.
This system goes far beyond typical attempts to improve meetings with agendas and Band-Aid solutions. Using the same principles that make video games so engaging and that transformed the numbing assembly line into the dynamic shop floor, the Axelrods outline a flexible and adaptable system used to run truly productive meetings in all kinds of organizations — meetings where people create concrete plans, accomplish tasks, build connections, and move projects forward. They show how to design every aspect of a meeting — from the way you greet people at the beginning to how you sum up at the end — so that real work actually gets done. Those who have adopted this system will never go back. Neither will you.
Meet the Authors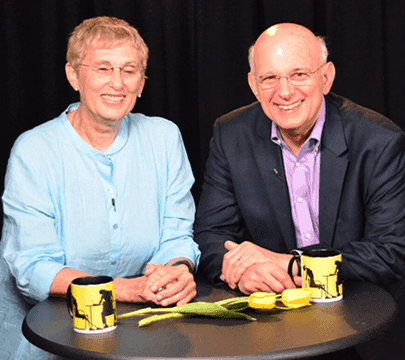 Emily and Dick Axelrod have a combined 60+ years working with businesses and non-profits. They are pioneers in creating employee involvement programs to effect large-scale organization change. They co-founded the Axelrod Group in 1981, and are frequent keynote speakers and co-authors.
Dick is also an executive coach, lecturer in University of Chicago's Masters in Threat and Response Management Program, and faculty member in American University's Masters in Organization Development program. He created the Conference Model®, an internationally recognized high involvement change methodology. Dick is the recipient of the Teaching Excellence Award from the University of Chicago. He remains a long-suffering Chicago Cubs fan, which explains his optimistic spirit.
Emily believes in stretching organizations so they can unleash their creativity and knowledge. She uses visioning, work redesign, team development, and good old common sense to build sustainable, fun, and collaborative enterprises. Emily is a guest lecturer in organizational change at Benedictine University, contributing author to multiple publications, board member of the Organization Design Forum, and coaches participants in University of Chicago's Leadership Arts Program. Emily brings her southern spirit and wit to everything she does.
Praise for the Book
"As the world becomes more interdependent, meetings will become more frequent and a more necessary part of the work of organizations. Rather than waste time in and get mad at meetings, read this book and learn how to make them more productive." 
—Edgar H. Schein, Professor Emeritus, MIT Sloan School of Management, Author of Humble Inquiry

"Reading this book is invaluable time well spent. It's the most practical and instantly applicable resource available for not only revolutionizing meetings but providing effective and tangible ways people can work together productively and creatively."
—Angeles Arrien, PhD, President, Foundation for Cross-Cultural Education and Research
"With this book you can create meetings that are engaging, productive, and intentional. Whether you are an OD practitioner, leader, or frequent meeting participant, the tools and approaches shared by Dick and Emily Axelrod can be quickly put into practice to achieve dramatic results."
—Kim Gallagher Johnson, Director of Organizational Effectiveness, Allstate Insurance

"With just the right balance of people and process, this book provides a great way to turn a negative into a double-positive—more productive meetings and increased levels of employee engagement." 
—Kevin Limbach, Vice President, US Operations, TaylorMade-adidas Golf Company

Learn More
Buy a copy the book, or share your review of it, on Amazon.
Visit The Axelrod Group to learn more about the authors and the book, discover the Meeting Canoe, explore recent press, and read the first chapter for free.