Who doesn't love a party? Well, speaking as an introvert, perhaps not everyone enjoys a big get together — but there are plenty of ways to celebrate your book launch that will play to the comfort levels of everyone on your mailing list.
Over the years, we've seen authors celebrate in a variety of ways. Some clients went big — cakes in the shape of their book and free-flowing champagne — while others went with something smaller and more intimate.
We've helped authors host virtual gatherings on launch day, making the launch team feel more a part of the process; and we've also worked with authors who chose to celebrate the launch by leaving town and taking a family vacation, almost ignoring the release as they personally celebrate having everything behind them. Everyone is different!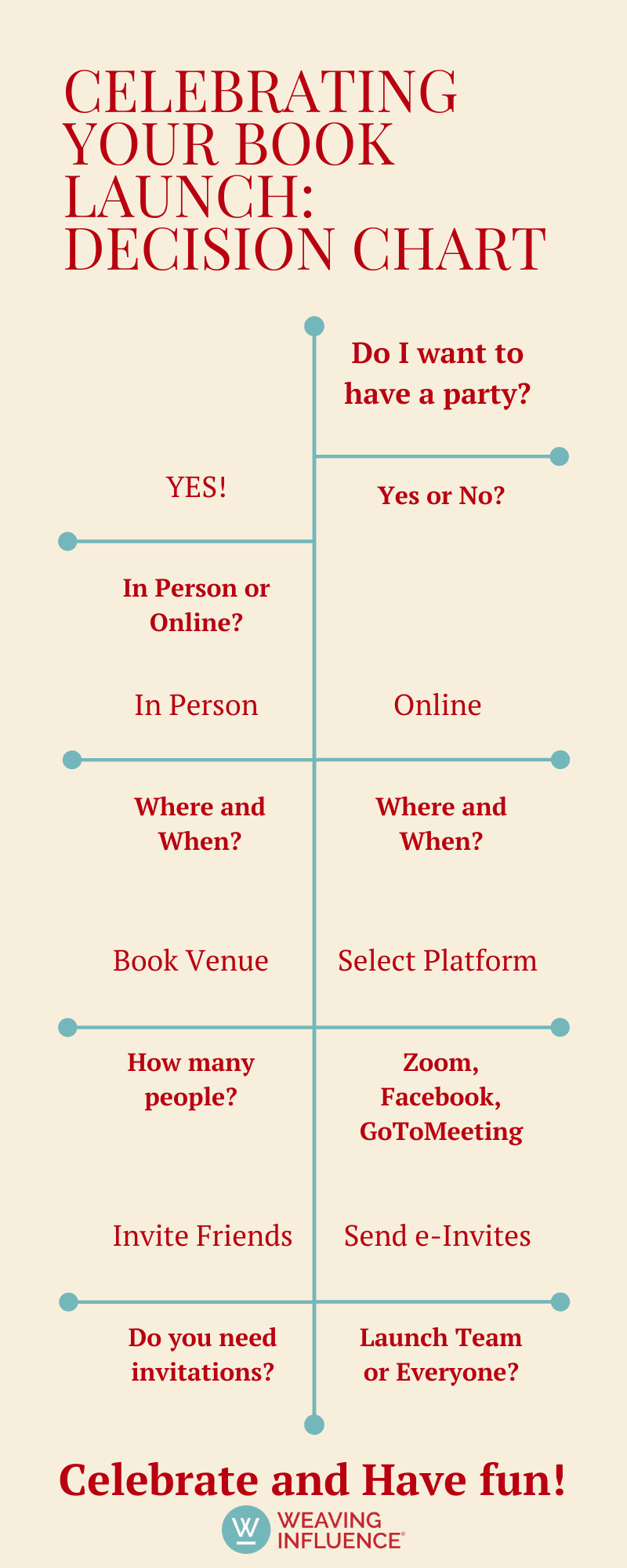 Whatever you choose to do, the first step is to make a plan. 
As you can see in the infographic to the right, there are a lot of decisions to make. 
Online or in person? Hosted at your home or a local bookstore? Will you need to bring food or will the venue provide it? How much do you want to spend? If it's online, do you have a Zoom account that will allow you to host a group? What kind of "party gifts" will you offer to your friends or online team? Are you going to do giveaways during an online event?
And that's just for a start! There are a million little details that you could focus on, but the main thing here is to decide what makes the most sense for you, your supporters, and your calendar.
Launching a book is a big deal, and you want people to celebrate with you — but if your book launches on a Tuesday and it makes more sense to throw a party on Saturday afternoon, so be it! 
Stuck for party ideas? Here are a few to get you started . . .
1. Bring a Friend
On the day of the release, host an exclusive, 30-minute webinar with your launch team, but give them the option of inviting a friend. As a party gift, let them know that everyone who brings a friend will receive a free electronic download of your book for them, AND one for their friend.
2. BOGO — Bring One Get One
If you're hosting an in-person event, tell those you invite that if they show up with a copy of your book (or a receipt from Amazon showing that they ordered it), you'll give them a signed second copy to give to a friend.
3. Coffee Chat
Maybe you're not interested in hosting a full-on party, so keep it low-key. Using social media and your email list, let people know that you'll be at a local coffee shop or bookstore on a specific date between the hours of 4-6, if they'd like to join you for coffee and talk about the book. 
4. Launch Day Live
Use the ease of a Facebook Live to celebrate the book launch with your Facebook friends. Host a Q&A from the comfort of your own living room, or talk about your favorite sections of the book or the book launch process. Keep it informal and short. You could even pop in for 10 minutes, three times on launch day, to hit up friends in different time zones, and let people know when you get new reviews or hit a new high ranking on Amazon.
5. Instagram Story the Day
Start out launch day with a cup of coffee and your book, then move to your commute. Taking the train into the city or a plane to vacation? Share a story of you reading your book in those locations. Not sure how interesting your day really is? You might be surprised at what you could do. This couple does a really good job of sharing their travels and daily adventures using a mixture of photographs and videos.
Celebrating the launch of your book can be as big or as small a deal as you want to make it. But whether you choose the all-out bash, or you reward yourself quietly with a Venti Pumpkin Spice Latte, make sure you take a moment to breathe and realize what you have accomplished.
Well done, you! 
Want to save this infographic for future reference? Bookmark this post, or right-click on the image to save to your computer!
Carrie Koens joined the Weaving Influence team in May 2012 and has held a number of roles, including three years as the Book Launch Director (a title she stepped away from in June 2016 in order to focus on the needs of her growing family), and she currently serves the team as a Writer and Consultant. An INTJ with a penchant for culture, book stores, Parisian cafés, Indian curry, British mystery shows, and her passport, you can find her on Twitter @CGKoens.