When people lead at a higher level, they make the world a better place — because, in addition to results and relationships, their goals are focused on the greater good. Perhaps few modern leaders exemplify this truism more than Ken Blanchard, a man who has dedicated his life to helping people lead at that higher, greater-good level.
This week we've enjoyed celebrating the launch of Servant Leadership in Action, a collection of essays from over 40 well-known thought leaders compiled by Ken and his long-time editor Renee Broadwell. We've been so thrilled to see it rise to Amazon's #1 top new release in Business Mentoring & Coaching, and hit the top ten mark in multiple other categories such as Christian Business & Professional Growth. It is one of the most comprehensive and wide-ranging guide ever published on servant leadership, and well worth acquiring!
Servant Leadership in Action
We've all seen the negative impact of self-serving leaders in every sector of our society. Not infrequently, they end up bringing down their entire organization. But there is another way: servant leadership.
Servant leaders lead by serving their people, not by exalting themselves. This collection features forty-four renowned servant leadership experts and practitioners — prominent business executives, bestselling authors, and respected spiritual leaders — who offer advice and tools for implementing this proven, but for some, still radical, leadership model.
Edited by legendary business author and lifelong servant leader Ken Blanchard and his longtime editor Renee Broadwell, Servant Leadership in Action is the most comprehensive and wide-ranging guide ever published for what is, in every sense, a better way to lead. With daring insights from over forty contributors, this book shows how true servant leaders lead by serving their people, not by exalting themselves.
Meet the Authors
Ken Blanchard is one of the most influential leadership experts in the world. He is co-author of the iconic bestseller The New One Minute Manager, and more than sixty other books, with combined sales of more than twenty-one million copies in forty-two languages. Ken is co-founder of The Ken Blanchard Companies, a leading international training and consulting firm. He is also co-founder of Lead Like Jesus, a non-profit organization dedicated to inspiring and equipping people to be servant leaders.
Renee Broadwell has been an editor with The Ken Blanchard Companies for more than ten years, working with Ken as lead editor on several book projects. She also serves as editor on articles, blogs, social media, and special projects, partnering with various Blanchard departments including communications, marketing, and the executive suite.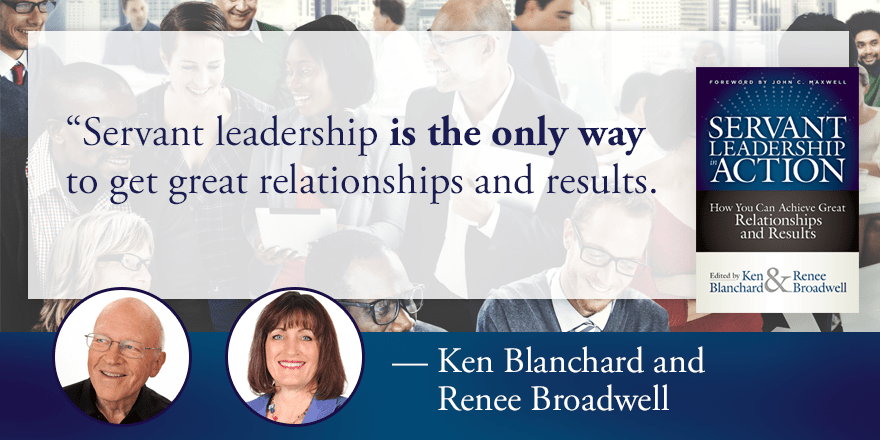 Other contributors include: Cheryl Bachelder, Tony Baron, Colleen Barrett, Art Barter, Richard Blackaby, James H. Blanchard, Ken Blanchard, Margie Blanchard, Robin Blanchard, Brené Brown, John Hope Bryant,Shirley Bullard, Michael C. Bush, Tamika Catchings, Henry Cloud, Stephen M. R. Covey, Holly Culhane, Jim Dittmar, James Ferrell, Mark A. Floyd, Jeffrey W. Foley, Marshall Goldsmith, Jon Gordon, Craig Groeschel, Phyllis Hennecy Hendry, Chris Hodges, Phil Hodges, Laurie Beth Jones, James M. Kouzes, Patrick Lencioni, Rico Maranto, John Maxwell, Erwin Raphael McManus, Miles McPherson, Mark Miller, Tom Mullins, Neal Nybo, Barry Z. Posner, Dave Ramsey, Garry Ridge, Mark Sanborn, Simon Sinek, Raj Sisodia, Larry C. Spears.
Praise from Readers Like You
"When Ken Blanchard assembled forty of the wisest people in the world and asked them to contribute to his newest book, he hit the jackpot. If you are looking for pearls of wisdom on leadership, there is no better place to go than Servant Leadership in Action."
—Perry Smith, 5-star Amazon review
"If you want to do more for the people you serve and care more about people, then read this book to learn how to empower them to use common sense and good judgment. you want to start catching people doing the right things, and great things, read this book!"
—Byron Ernest, 5-star Amazon review
"Ken Blanchard has compiled contributions from some leaders who are serving as an example of what to do rather than the usual 'Do as I say, not as I do.' For those of us who want to be one of those servant leaders, the book serves as encouragement that we can do it."
—Bold Consumer, 5-star Amazon review

"This is by far one of the best books I've read on the topic of servant leadership . . . Not only does the book add clarity to the concept of servant leadership, it also paints multiple pictures of the potential ways one might implement servant leadership in various settings."
—SW, 5-star Amazon review
Learn More