How much time did you spend planning your wedding? How much time did you spend preparing?
Guys, did your bride-to-be nudge you toward a long engagement, with plenty of time to plan? Do you remember the months of preparation? The tuxedo fittings and cake tastings?
Ladies, did you start browsing bridal magazines long before your guy popped the question?
Or maybe you dreamed of your wedding day as a little girl and imagined the perfect dress, your dream ring — years before your first date. Did you keep a list of bridesmaids, venues and honeymoon destinations?
When it comes to weddings, some women think it's never too early to start planning, dreaming, and scheming. And once they choose a date for the wedding, the preparation begins.
The same is true for plans to write and market a book. It is never too early to lay the groundwork for a successful book launch. The difference is that your preparation can begin even before you set a date. No one has to know what you're preparing for — you can be the dateless coed in her dorm room, scouring Pinterest for wedding ideas.
My advice: if you think you want to write a book someday, get on with it. Start writing. And while you do that, begin to build connections and relationships online. Don't wait for a contract, don't wait for a publication date — start today.
Start dreaming about who you'd like to blurb your book. Or what media outlets you'd like to be featured in. Start discovering others who share your interests, people who might want to review your book on their blog when the time comes.
Even better, get involved in helping others launch their books. Ask how you can help, be a friend, share support. Leverage the influence to help someone else.
Start both the marketing preparation and the writing at the same time, or start building your online presence first. If you wait until the book is printed and ready to ship, you've waited too long.
I know a lot of folks who spend years writing their books. And then when their launch date looms, they struggle in the last month or two before their book launches to make quick connections and put their marketing plans into place.
So bogged down in writing the book, so focused and clear, but walled off from social media, considering it a distraction.
You can be different, start planning and growing your influence now, instead of frantically looking for ways to increase your influence online in the 11th hour before your launch.
Make a modest time commitment now to build relationships and create an online community.
Grow your  network before you need it. Spend time, while writing your book, to plan for how to market it.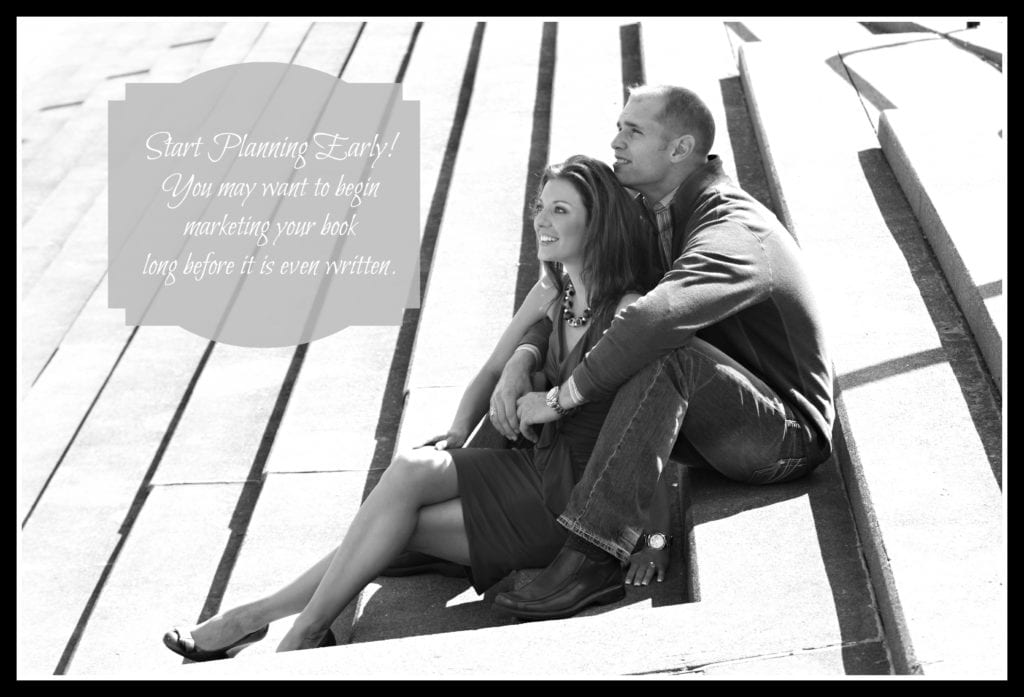 Today's Tip: Do the Work, Now

 Whatever work you need to do to prepare, do it today. If you need to start writing, start writing. If you need to start tweeting, start tweeting. Set aside 12 minutes and do the work, now. It's not too soon.
Tell me something! How much time did you spend planning your wedding? What is the work you need to do, today to move your business, book, or plans forward? How will you spend your 12 minutes today?
My friend Wally Bock shares thoughtful daily tips for leaders at the Three Star Leadership Blog. You can read his tips here.