I'm excited to announce the launch of my latest e-book, Your Book Deserves a Celebration: 15 Ideas for a Spectacular Social Media Book Launch.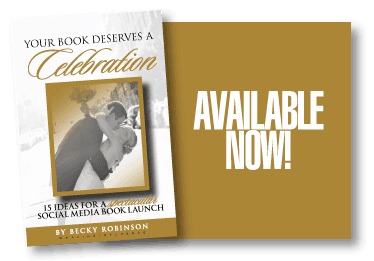 This book represents the heart of what my company and I do. The core of our business is helping people use social media effectively and build their online presence toward the accomplishment of their goals.
But what we are best at, what we excel at, is executing excellent social media book launch celebrations. It's what we're becoming known for, what we'd like to be known for. So this new ebook, which you can download for free, is our brand, delivered to you on a platter. Voila!
It is my hope that many people will download this free e-book. We gave away 600 copies of my Twitter Tips e-book in one month. I'd like to give away even more of this new book.
Here's how you'll know this free e-book is for you:
You've dreamed of writing a book.
You're in the midst of writing a book.
You are preparing to market a book.
You have published a book.
You support people who publish and market books.
 Will you download the book, now?
And then, share it? You can copy/paste this tweet:
Planning a book launch? #BookCelebration by @beckyrbnsn is a FREE guide to making the most of your party: http://stage.weavinginfluence.com/ebooks/your-book-deserves-a-celebration/
Thank you for joining my celebration.
I want to take a moment to thank my team; they are the reason I can do what I do.
Molly
selected photos, gathered photos, and added the quotes to the beautiful images.
Carrie
and Donna edited the e-book, and Carrie created the text for our resource page (use it to share the new e-book, please?), wrote text for 12minutemedia.com, and helped in other ways behind the scenes of this e-book. Angie and Amy are the two other members of my team who keep things running smoothly here. Although they weren't involved in the creation of the e-book, they're just generally awesome.
John Sellards created the cover and designed the e-book. When you download it, you'll know how amazing John is. He just is. Thank you, John.
Tell me something! Which of the five categories above describe you? If this e-book is not for you, who can you share it with? How will you celebrate your book launch?