MULTI-SESSION VIRTUAL GROUP COACHING
Learn how to promote your book and grow your audience
This virtual, interactive experience is designed to give you an overview of digital book marketing strategies and techniques to help you reach the biggest possible audience.
You'll learn tactics that make you effective in using online channels to share your ideas, grow your influence, and connect with potential customers. We'll introduce the Reach Framework, helping you understand the basics and exploring advanced strategies to increase your reach.
Each session will include collaborative conversation so that all participants can ask questions and share challenges while offering support and guidance to each other.
FIND THE RIGHT GROUP FOR YOU
We have customized tracks to help you wherever you are on your author journey. Within this coaching, you'll join a group with other authors in the same stage of the process as you, offering ample opportunity to share experiences and have ongoing support. Note that while our guidance can be applicable to any book, our expertise is in nonfiction.
Track One
You're an aspiring author, or your book is launching more than six months from now. This track focuses on:
General guidance on building an overarching book marketing strategy, including pre-launch initiatives, launch day guidance, and post-launch momentum
Building your personal brand
How to grow your owned email list
Tactics for growing your social following leading up to launch, as well as general social media strategy recommendations
How to effectively use content marketing
Considerations for the planning and execution of your media relations strategy
Mobilizing your network
Creating a book marketing timeline
Optimizing your website for launch
Track Two
Your book is launching in the next six months. This track focuses on:
Building and engaging your launch team
Mobilizing your network for pre-sale promotion and ongoing support
Media relations priorities and tactics
Ramping up your social media leading to launch
Building your Amazon strategy
Real talk about bestseller campaigns
Enhancing your email marketing execution and best utilizing your owned email list
How to effectively use content marketing
Optimizing your website for launch
Why you should budget for collateral and graphics
Prioritizing ongoing creation of video, webinars, and other virtual events
Track Three
Your book has already launched, and you need support to continue momentum. This track focuses on:
What now? Let's talk about next steps
Looking across the next year month-by-month to identify key times to promote your book
How to shift your media relations post-launch
The ongoing value of content marketing and how to stay consistent
Continuing to grow your social media presence and building strong connections
How to use eBooks and other lead magnets
Recommendations on Amazon Ads and other advertising for continued traction
Incorporating your book into your business marketing
Ongoing network mobilization
Hurry! Only eight people can participate in each track per session.
Make sure you reserve your spot today!
$897
3 months (9 sessions)
Wednesdays
3:00-4:00 PM ET
$897
3 months (9 sessions)
$897
3 months (9 sessions)
It was great to get a comprehensive overview of the book marketing process. I appreciated the open environment and the generous sharing of knowledge and perspective.
Author of "Oasis Mindsets: Leading with an Open Mindset to Maximize Potential"
Becky's presentation was comprehensive yet digestible. The combination of presentation, group discussion, and breakouts was a nice balance of learning from the experts and learning from one another.
Founder and Managing Consultant / OrgMomentum Consulting
I felt I was gaining knowledge that it took my leaders and fellow members YEARS to acquire.
I loved connecting with the others on the call and how personable Becky is in her facilitation.
Product Manager / NARM Training Institute
I gained real insight around what to do to become more memorable, achieve greater name recognition for my writing, as well as professional activities - coaching and consulting.
Author of "The Flow of Organizational Culture: New Thinking and Theory for Better Understanding and Process"
The workshop provided a lot of information that I can use immediately to promote my current book. I got great ideas from the instructors as well as the participants.
Becky and the team were a wealth of knowledge and I loved the times she shared from her own experiences with clients and now with the launch of Reach. Having the support in the small group to make sure everyone got time to share their own examples and questions was the most valuable part for me as I love getting real-time feedback and applying what I learn straight away.
Huge volume of actionable takeaways, great connections with others on the workshop.
Managing Director/Founder / Gossamer Gear, Inc.
I loved having access to all the critical elements of book marketing in one place. It was very helpful in figuring out where I am "ready" and where I have gaps.
It was great to pick the brains of Becky's team with all their experience. And the varied group, with people ranging from published authors to just starting on their first book, provided a surprising number of insights also.
Managing Director/Founder / Gossamer Gear, Inc.
Your investment gives you access to:
Nine hours of coaching with our CEO and other book marketing and media specialists. We will record for future reference.
Access to Weaving Influence's signature course, The Book Marketing Action Guide (a $299 value).
Reference resources—including network mobilization insights, book page recommendations, and examples of communications—to support you long-term in your journey.
A community of authors to share in your journey and support you on your path, allowing you to share ideas and insights while learning from each other.
Added Bonus!
As part of your investment in the Reach More Readers Mastermind Group, you can join three sessions with the Weaving influence Author Community. These sessions bring together authors at all stages of the publishing/marketing process to help collaborate, learn from each other, and build your network with guided input from Weaving Influence Founder and CEO, Becky Robinson. Gatherings take place the third Friday of each month from 12-1 PM (ET).
Join the most successful people and learn from the best.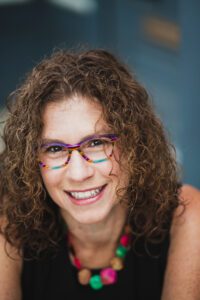 Becky Robinson is the Founder and CEO of Weaving Influence, a full-service marketing agency that specializes in digital and integrated marketing services and public relations for book authors, including business leaders, coaches, trainers, speakers, and thought leaders. Since launching in 2012, the firm has provided a wide range of services to help clients launch more than 200 books, including a Wall Street Journal bestselling author. The work of Weaving Influence under her leadership enables authors to build their brands, acquire more business customers, and increase book sales. In April 2022, Becky published her first book with Berrett-Koehler Publishers titled, Reach: Create the Biggest Possible Audience for Your Message, Book, or Cause. Becky holds an M.A. in Intercultural Studies from Wheaton College and received her B.A. in English/Creative Writing from Miami University.