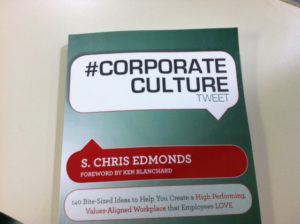 Yesterday afternoon, I got a copy of Chris Edmond's new book, #Corporate Culture Tweet in the mail.
If you don't know Chris, I hope you'll check out his work. His tweets, which I always love, look for, and retweet, comprise his new book. He shares great ideas for creating positive, healthy, fun, and productive work environments. His book is the kind you want to keep close by so you can read a few tweets each day for inspiration. It contains 140 tweets (a fact my oldest daughter discovered and delighted in.)
I got the mail on my way to pick up the girls from school. While sitting in the parking lot at school, I ripped the box open. I took a quick glance at the front and back covers and then passed the book around the car so my daughters could look at it while I drove to gymnastics.
I first met Chris during the book launch for From Bud to Boss. I liked him instantly and I've enjoyed our friendship and collaboration.I felt honored when he asked me to provide advance praise for his book, so I wasn't surprised when I saw my name on the back cover of the book.
I was surprised, pleased, and thrilled at the acknowledgment Chris shared for me inside the book. (You'll have to buy the book to read it!) Here's a hint: Chris calls me his mentor.
Social media channels have revolutionized my view of mentoring. Because of relationships and connections I find through Twitter, Facebook, and this blog, I can mentor people from a distance, for a season, and about specific topics.
I can share what I know with people I have not yet met face to face. I can make a difference in the lives of people who have far more life experience, knowledge, and expertise than I do.
And, while I am looking for ways to add value to others, I have found a host of mentors to encourage, inspire, and support me. In fact, most of the time, the people I am mentoring and the ones I am being mentored by are the same.
Tell me something! How have social media channels changed your view of mentoring? Who are your mentors? Who are you mentoring? What can you share to add value to others?
I am sharing more about this topic in a guest post at my friend and mentor Jesse Lyn Stoner's blog. I am honored by her kind words about me and happy about the chance to share my work with her readers. I hope you'll read that post also because it deepens many of the ideas I introduce here.
Chris and Jesse, I can't wait to meet you in person… very soon!