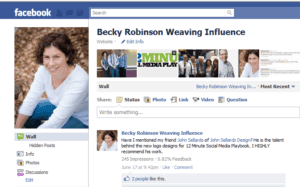 I started the Facebook fan page for this blog even before I posted my first post. It sounds a bit counterintuitive, doesn't it?
Here's why I did it.
I knew that I would use Facebook as a primary means for promoting my blog and I wanted to be sure that I didn't overwhelm my friends with links to my blog.
So I started the fan page as a way to allow the friends who are really interested in my writing to show it by joining my page.
While it's possible that I might get more traffic to my blog if I posted every single post on friend page, I might also turn off some friends. They might tune me out.
When I have a post that I think might interest all my friends (like the one I wrote for my wedding anniversary) or when I feel very strongly about the content in the post, I post on my friend page also.
Do you have a Facebook page for your blog or business?
If not, what is holding you back?
I don't have time for one more thing. While setting up a fan page does take time, you can set up a page very simply in a very short amount of time. You may want to spend some time growing and sharing it. But once it is set up, and you link to it from your website or blog, you can choose to automate some processes and you can engage with your fans in a very few minutes a day. My opinion is that the time it takes to maintain a fan page is well worth it. In only a few minutes, you can connect and share with people who already like you!
I don't have any fans. If you have a business or a blog, you have fans. It may take some time to identify them. It may take time for people to discover you. Once they do, they will want to stay connected to you. They will want to know what you're up to — and you will want a chance to get to know and interact with them.
Tell me something! If you have a Facebook fan page for your blog or business, what do you most enjoy about it? If you don't have a fan page for your blog or business, what is holding you back? What questions do you have about how to manage a Facebook fan page?
Do you like my page? If not, please like it, now!