Working in a start-up company is not for the faint of heart, and in the summer and fall of 2013 the Weaving Influence team was swimming to keep our heads above water.
We were starting to feel the growth pains as one by one our fellow contractors moved on or moved away, all while the company continued to expand, with  Becky, Amy, and I trying to juggle project management and book launches. Megan had arrived that summer to begin our foray into Public Relations, Rachel was hard at work creating graphics, and Joanna continued to as behind the scenes support, but we desperately needed help.
Help did come, eventually, starting when Christy came on the scene. It was like someone had thrown us a life ring! Although she started out with us working part-time on just a couple of projects, it was the boost of energy we needed to take Weaving Influence to the next level. When she made the decision to leave her other job and join us full-time, Weaving Influence folks from Michigan to Tennessee cheered!
Christy has been a tremendous asset to our team, in so many ways. Her enthusiasm for the work, her responsiveness to clients, and her great sense of humor make her irreplaceable at Weaving Influence. It's been a while since I've featured a team member on Friday, but it's high time you met another of our #WITeam superstars…
Meet Christy Kirk
Hey Christy, thanks so much for doing this! Can you tell mus a little bit about your personal life?
I am a mother of 6:  Three children ages 8, 13 and 20, two cats and a dog. In addition to making sure they are all fed, bathed and properly clothed, I am the Director of Social Strategy for Weaving Influence.  I began working in social media while still a journalist and transitioned to working full-time in social strategy around 3 years ago.  Before that I was a television journalist for nearly 20 years. I love the constant change involved in social media.  It's not quite the same adrenaline rush as meeting a show deadline, but it's the closest thing I can find.  Plus, it's a wonderful creative challenge to share stories in such a variety of formats.
Tell us something unusual about yourself.
I never make a recipe the same way twice. I'm always trying to improve or advance everything I make.  It drives my husband crazy because even the favorites are constantly being updated.
What's your favorite pastime?
Nothing makes me happier than being curled up with a good book.  There are books and magazines in every room in my home.  Reading is fun and fundamental! (If you are old enough, that line should make you smile.)
Tell me your favorite part of the job with Weaving Influence…
My favorite part of working for Weaving Influence is the opportunity to constantly try new things.  We're trying new approaches as a company, for clients and in the social space.  While most people don't like change, I thrive on it.
How long have you been working with Weaving Influence?
I've been working for Weaving Influence for almost 2 years now.
What's your official title?
My official title is Director of Social Strategy, but I started as a social implementer and project manager.
As the Director of Social Strategy… what's the best social media tip you can offer?
Here's my best social media tip: Experiment.  Social media is not like so many things in life where you can develop a plan and stick to it.  Social is constantly changing, so even the best plans, need regular tweaks.  Also, don't be afraid to try something new.  It might work, it might not, but you've learned something regardless.
Connect with Christy Online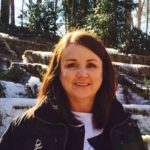 Find her on Twitter @McBuck48, and make a connection with her on LinkedIn.
Want to meet more of the team? You can find us HERE. And don't forget to follow our Weaving Influence accounts on Twitter @weaveinfluence, Facebook, LinkedIn, and Pinterest.
Carrie Koens joined the Weaving Influence team in May 2012 and has held a number of roles, including three years as the Book Launch Director (a title she stepped away from in June 2016 in order to focus on the needs of her growing family), and she currently serves the team as a Writer and Consultant. An INTJ with a penchant for culture, book stores, Parisian cafés, Indian curry, British mystery shows, and her passport, you can find her on Twitter @CGKoens.