If you are overwhelmed by a steady stream of information about your friends' activities related to Facebook games (Farmville, anyone?) or by multiple updates from friends you don't know well, this tip may be very helpful to you.
I hesitate to give detailed instructions about Facebook because Facebook changes settings all the time. Today's post could be obsolete tomorrow. So, if you can, use my general advice below to help you decide what to search for and fix on Facebook.
I do want to make sure that you know that you can hide (effectively eliminating) much of what seems like noise on Facebook.
Here's what I hide:
Any of my friends' game activity. You can hide game activity without hiding your friends' other updates. I don't play games on Facebook and I'd really rather not know who does, what they're doing, and what level they've reached on Mafia Wars.
Offensive updates. Very rarely, one of my weak ties will post using language I would rather my kids not see. I'll typically hide the offensive post, not all the person's posts. If one person repeatedly posts questionable updates, I'll hide them completely (I think I have only done this once.)
Here's one thing I never hide:
I never hide updates from fan pages I've "liked." I don't know about you, but even though I have liked hundreds of pages, I only see updates from a select few. That's because Facebook pays attention to the pages you visit and interact with and doesn't bombard you with updates from ones you don't interact with frequently. As a marketer, this drives me a little crazy! I want my posts to be seen! So, as a rule, I don't hide posts from pages. If I find I am uninterested in their updates, I "unlike" the page, instead.
You can also change your settings on Facebook to change what email notifications you receive… another way to cut down on the noise.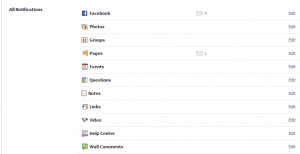 Have you used Facebook's list functionality? You can create lists of friends and share content with particular lists; lists allow you to exclude some friends from seeing selected (or all) updates. Although lists as such do not help you filter noise, they do allow you more control about what you share and with whom you share it. Lists give you a way to organize and segment your friends.
Today's Tip: Filter the Noise

Set your timer for 12 minutes and explore the features of Facebook explained above. Turn off some notifications that you don't really need. Hide any specific activity (games?) that you'd rather not see. Explore lists, if you'd like more control over what you share and with whom you share it. Experiment with settings so that you see more of what you'd like to see in your news feed on Facebook.
How will you spend your 12 minutes today?
My friend Wally Bock shares daily tips for leaders at the Three Star Leadership Blog. You can read his tips here.