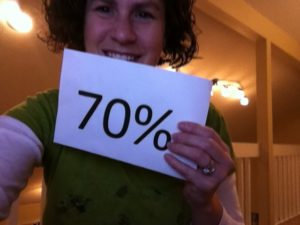 I am one of the 70%.
I am one of the 70% of small business owners who have a website for my business.
It's difficult for me to believe that in 2011, nearly 30% of small business owners don't have websites.
Although I understand it.
I consider myself pretty limited when it comes to technical skills. I didn't do anything online besides surf or email until 2009.
In 2009, when I started working as a professional blogger, I learned my way around Typepad, but I had a lot of technical support from my team.
When I started my own blog and website last December, I had technical help from a bunch of friends who helped me for free.
If I hadn't had the support of friends, I might have been overwhelmed by the expense of hiring someone to create a website. Or, I might have been overwhelmed by the time I surely would have spent learning what to do on my own.
So, I guess I shouldn't be surprised that 30% of small business owners have no home online.
To the 30%:
If you want to have a valuable and valuable social media presence, you need to have an "online home" for your business.
And you want your "online home" to be a place that YOU CONTROL. Some businesses try to get by with "renting" an online home – they may rely on their business' presence on others' websites as enough. But when the only information about your business is on other people's websites, it can:
Disappear in an instant.
Be subject to change without notice.
Or contain inaccuracies.
You want to OWN your own home online.
Here's some good news: Creating a website doesn't have to be expensive or difficult.
You can even take the first step, today, in less than 12 minutes.
Start by choosing and buying a domain. A domain is your business' online address.
Before people visit your website the first thing they'll see is your domain name.  Your domain name will be the first impression and tell visitors what you're about.  For a small business, especially a local business, you're going to want to make it as easy as possible for people to remember your domain and get to your website.
Use a .com rather than a .net, .biz, or .org. address.  Whenever possible, get the .com name for your company. That's what people will type in, regardless of what you tell them and regardless of what they see, so we strongly recommend you get the .com address.
Don't use hyphens in the domain name. create a site like bobsflowershop.com rather than bobs-flower-shop.com (the exception would be if people only find you online).
If possible, add what your business does in the domain. For example, if you're a chiropractic clinic called Affinity your site could be affinitychiropractic.com rather than just affinity.com
You can buy your domain in several places online, but we recommend bluehost.com (note: affiliate link).
When you own your own domain, you are on  your way to a valuable, online presence for your business.
Phil and I are creating and will soon release our Social Media Quick Start Guide. This free resource will give you more help in creating a valuable online presence, starting with a website.
You can watch me discuss this topic on video by visiting Toledo Biz Connect TV, where my show will post on Friday.
If you are one of the 30%, what is stopping you from creating your own online home? We'd love to read your comments here.