Tuesday is my favorite work day, especially when my team and I have a book to launch. But whether it's Tuesday or any other day of the week, I love watching what authors are doing during the week their books debut. I also enjoy diving into book data, especially sales ranks and Amazon reviews.
This week, I'm watching our client Gena Cox's book, Leading Inclusion, and I'm watching six-time bestselling author Laura Vanderkam's release of her latest time management book, Tranquility by Tuesday. What I'm seeing in comparing the results of these two books may be helpful to other authors who are planning for upcoming book releases.
Every author I've ever met wants the social proof and bragging rights of being a bestseller. We write books to make a difference and the way to make a difference is to share our content with the widest audiences possible. Launching and marketing a book can be a challenging and time-consuming endeavor, so it's important to celebrate the wins you have. There is a definite psychic boost when you see your book with a bestseller banner.
During the launch of my book, Reach, one of my favorite moments was when my various editions were ranked #1, #2, and #3 in the category Public Relations. While it may be a momentary win, since ranks can change hourly, the category bestseller achievement can energize an author to show up more effectively to continue to share their book's value with the world.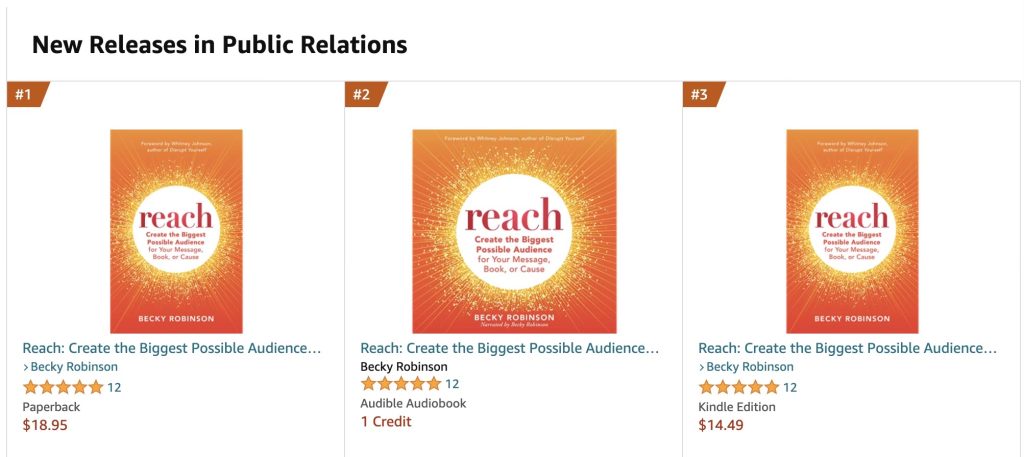 While many authors aspire to become New York Times bestsellers, making this prestigious and curated list may require years of work (unless you're already famous.)
For most independent or first-time authors, the Amazon bestseller banner as a new release in the category is the most attainable. Depending on your category selection, getting the new release banner may only require selling 10-20 books in any hour, while landing on other more renowned lists requires thousands of sales in a week.
Garnering the bestseller banner gives credibility to the title and increases the book's discoverability. Once you've gained the banner, you can claim bestseller status.
Here is a quick overview to increase your chances of reaching bestseller status in your category on Amazon:
Step 1 – Strategically select and apply 3 relevant categories for each edition of your book. My team uses Publisher Rocket to research and select these categories.
Step 2 – Ignite strategies to drive pre-orders for your book.
Step 3 – Concentrate launch week sales by hosting a webinar or live event with strong calls to buy the book.
Step 4 – Through your email list and social channels, ask as many people as you can to buy your book on launch day.
Here are the details you need to know:
1. Gaining the Bestseller Banner During the New Release Period
From the time your book is available on Amazon for pre-order, through 30 days after your publication date, your book has the best opportunity to gain the bestseller banner as a new release in its categories. The strategic work to gain the social proof of a bestseller banner can begin far in advance of launch but it does require that you intermittently look at your product pages to see how your book is ranking. You can also view your book's rank over time through your Amazon Author Central Account but there's no way to know when your book has the banner except by looking at your individual product pages for the various editions of your book.
2. Automated and Strategic Category Selection Process
Automated Process
Whether you are self-published or traditionally published, Amazon relies on metadata to put your book into categories. The categories are designed to help people find the book and topics they're interested in, so putting your book into appropriate categories is important. The category selection is partially fueled by metadata including keywords, your book's description, and your book's content. However, there is no guarantee that you will be placed into the categories of your choosing. It is possible that Amazon will place you into additional categories that you didn't select. You will see up to 3 categories for your book on your product page at any time, and your rank is determined, in your categories, by how many books you are selling compared to the other books in your categories.
Strategic Process
What many authors don't know is that you can also strategically select categories and manually add them to each of your book's products (Kindle, print, and audiobook). You can no longer do this through Amazon Author Central. You now have to log into your KDP dashboard and navigate to the book details page. Each product can have up to 3 categories selected and whatever categories you are performing best in will be the ones that show up on your book listing at any given time.
It can take some time for the categories to appear so the earlier you can research and apply strategic categories, the better. Be sure to drill down as far as possible into subcategories because the more niche the subcategory, the fewer books you are competing against.
During Bill Treasurer's launch of Leadership Two Words at a Time, we saw his book and the three editions rank in multiple categories throughout the campaign. All of these new release bestseller banners, captured as screenshots, gave Bill the ability to talk about his book's success in a tangible way. The excitement is contagious. Success fuels more success.
3. BULK ORDERS WILL NOT HELP YOUR RANK ON AMAZON
Amazon ranking is driven by orders NOT sales, so actual sales of more than one or two books at a time influence the sales rank the SAME as larger bulk orders. For this reason, it's not advantageous to ask people to buy multiple copies of your book from Amazon to drive more sales and increase your rank. Instead, ask people to buy in bulk through a bulk retailer like Porchlight, which could land you bestseller status there.
4. Ranking Details
Amazon ranks compare your book to all books on Amazon (overall rank) and to books in your categories. These are updated as often as hourly but are sometimes delayed. I've noticed that it can take several hours for Amazon's ranks to catch up.
Because the category rankings represent competition with other books in the category, it's possible for a book to rank very strongly overall on Amazon, representing more robust sales, while NOT gaining the bestseller banner in a category.
If you have multiple products in the same category, like I did with Reach and Laura Vanderkam does with Tranquility by Tuesday, your products may be in competition with each other. This won't cause a problem unless for some reason, the other categories into which your book lands are extremely competitive. Increasing the number of categories to the limit of 3 for each edition of your book will increase the likelihood that a high overall rank lands you the new release category banner. 
5. Balancing Pre-Orders with Launch Week Sales
While pre-orders ultimately provide great value to authors and signal retailers to order the book, a robust pre-order campaign may limit the momentum of your launch week rank, as you may cut into the launch week sales because people pre-ordered the book. When I interviewed Laura Vanderkam, she mentioned she reached an overall rank of 700 on Amazon on the day she sent out her first pre-order email to her 50K person list. The people who bought the book that day are likely not also ordering the book during launch week. As you plan your book marketing strategy, you need to balance the need for pre-orders with a desire to also achieve strong launch week sales.
6. Price Drops on Amazon are a Great Sign!
While your publisher sets a retail price for your book, Amazon ultimately controls any discounting of your print book. If you see your book discounted below the retail price in the days after your book launches, take it as another win!
Amazon discounts bestselling books more steeply than other books to drive additional sales. The price drop is a gift you can use to fuel even more momentum. This is especially helpful for authors whose books are released in hardcover because the gap between the hardcover (nearly $30) and the other editions (often significantly lower) may nudge someone to buy the ebook or audiobook even if they'd prefer the hardcover. When Amazon drops the price of the hardcover, the price gap decreases, which may result in more sales to the hardcover.
A book marketing trick to try: post a screenshot of the price reduction and share it with your online communities. Frame it as good news: My book is doing so well that Amazon has just dropped the price. Order an extra copy at the lower price to share with a friend. Or if you haven't ordered yet, now is the perfect time!
Leading Inclusion vs Tranquility by Tuesday
Here are some insights from a moment in time with both of these releases.
On Tuesday evening of launch day (10/11/2022), Gena's book had bestseller banners on both her Kindle and her hardcover, with an overall rank of around 64,000. As a first-time author, Gena has frequently had the bestseller banner in a wide range of categories. This early momentum is helping to fuel the excitement of her launch.

Laura had a bestseller banner with both her audiobook and her Kindle, with no bestseller banner on the hardcover. All three editions of her book, ranked #1, #2, and #3 in her most relevant category of Time Management as a hot new release. Incidentally, the time management category is highly competitive, with the top slot held by a NYT bestselling book from 2013.
While marketing a book is a long-term endeavor, I'm curious about the category selection process that Laura's publisher, Penguin Random House, applied. It's possible her book has been manually added to only a handful of categories. (NOTE: Since this was originally posted, Amazon now only allows three categories to be selected.) Ultimately, this is a minor detail in what will likely be a very successful campaign. From what I can see, Laura is getting a lot of social media and traditional media attention from her book. She may go on to land a big list with this book and fuel ongoing attention and sales.
BUT, as a book marketer, I want her to have the psychic boost of the banner on her audiobook, Kindle, and hardcover during launch week, along with the bragging rights that come with it. It's possible that selecting and applying new categories could allow her to gain that banner within the 30-day new release period. Because most people will only look at the top of the Amazon page, they might never see Laura's overall strong rank.
Regarding pricing, just one day after the release of Tranquility by Tuesday, Amazon has dropped the price nearly 20%. Leading Inclusion's price is also reduced, but by a smaller percentage. Both authors could draw attention to the lower hardcover price to drive additional sales as their launch weeks continue.
Key takeaway: if your book is already selling well, as evidenced by your overall ranking on Amazon, a bit of strategic behind-the-scenes adjusting could be all you need for an extra win to celebrate.